Global specialist infrastructure provider, blu-3, has provided over 400 free meals to Maidstone residents, local to its headquarters, who are vulnerable and struggling this Christmas, as part of its ongoing commitment to being a responsible, socially aware business. 
blu-3, currently undergoing a significant and transformative Corporate Social Responsibility (CSR) drive, has underpinned its support of local causes with an initiative designed to help those most vulnerable this Christmas, partnering with local charity, Hungry Hearts. 
Traditionally, blu-3 sends out physical Christmas cards to its colleagues and partners, but as the company continues to boost its sustainability efforts, it has sent out digital cards this year. Instead, the money saved by going paperless has been donated to Hungry Hearts to pay for Christmas dinner for the homeless.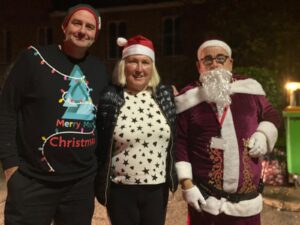 Hungry Hearts, located close to the blu-3 head office, provides much-needed help and support to homeless and vulnerable individuals and families when they need it the most. The organisation's tireless work is particularly valuable during the colder winter months and festive season.  
Nicola Finch, sister of blu-3 CEO Danny Chaney, helped set up the charity and played a significant role. Nicola used her time to cook the 400 plus meals alongside Trudy Wilde from a local Christian group. She said, "It was a great privilege to be allowed to play my part in this charitable donation, and I'm so glad I get to see the smiles on people's faces after what has been such a challenging year for many."  
Head of Corporate Services, Liane Nunn, commented: "We are constantly striving to be a more sustainable business and create positive change to the world around us. Fortunately, our latest policy change in going digital has generated money that has enabled us to provide meals for those who need them most. 2021 has been a difficult year for many people, so we were delighted we have this opportunity to spread some festive cheer." 
To find out more, please visit blu-3.co.uk or https://www.facebook.com/hungryheartsforthehomeless/ to see how you can get involved.