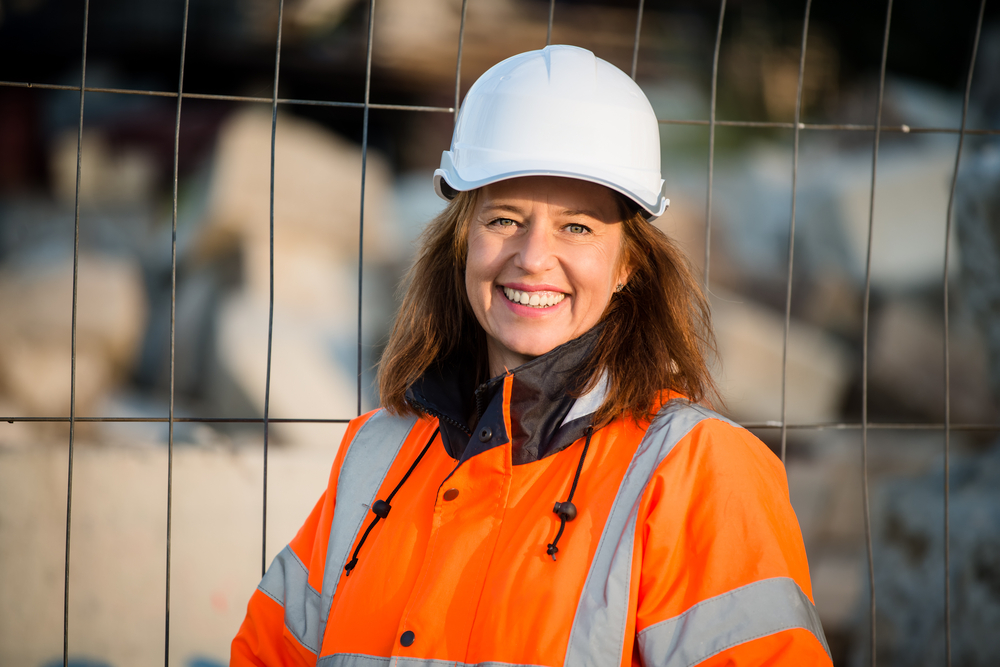 WHERE ARE ALL THE WOMEN?
Challenging construction industry stereotypes to enable women to thrive
Traditionally, the construction industry has been a male-dominated profession. Despite an increase in gender equality awareness in the workplace and a drive to breakdown gender stereotypes socially, construction is a sector that continues to struggle to attract women on to site and in to senior roles.
More than 2.3million people work in construction in the UK, yet only 13% of the workforce is female. This figure from the Office of National Statistics (ONS) however, is likely to include a majority who work behind a desk, often in Design, HR, Marketing or other more administrative roles. It is estimated that less than 1% of workers on building sites are female.
The UK currently has the lowest proportion of female engineers in Europe and a recent study found that only 13% of women aged 16-25 would consider a career in the construction industry.
We look at some of the key issues hindering progress when it comes to women in construction and consider how it is possible to buck the trend.
Sexism
Despite changing attitudes towards gender equality, 30% of females still admit they avoid male-dominated industries for fear they will endure sexism in the workplace. Whilst many believe that widespread extreme gender discrimination is no longer an issue, this has been replaced with benevolent sexism.
There has to be a zero-tolerance approach to sexism and any other form of discrimination. Individual companies must enforce this through formal policies and strategies and by sharing best practice within the workplace and the wider sector.
As an industry, it is crucial that proactive steps are taken to promote the changing nature of construction and demonstrate opportunities for skilled and talented women.
Technology and innovation have changed the face of the industry. Whether women are, or are not, physically strong enough to work in construction is no longer relevant; women can handle the same tools and operate the same machinery as men.
In addition, the achievements of women within the industry should be shared and celebrated by all to demonstrate equality and encourage career progression.
Gender Pay Gap
Not just an issue in construction, the gender pay gap is something that has come to the forefront across many UK sectors in recent years. The gender pay gap can be as wide as 45% in construction – a key issue that has been identified as a real barrier when it comes to recruiting female workers.
An ageing workforce and skills shortage, combined with the potential impact of Brexit on recruitment, and massive investment into the sector thanks to major economically beneficial projects such as Hinkley Point C means there are huge opportunities for women to have a successful and prosperous career in construction.
blu-3 believes that there should be a fresh look at recruitment, leadership and management training across the industry, ensuring equality of opportunity for roles on site and in senior positions. Additionally, employees should truly be rewarded and promoted on results rather than just on the basis of those confident enough to ask for a promotion or pay rise.
Lack of Information
Recent research has indicated that only 30% of young women (aged 15-21) are advised to consider a career in construction. Typically, most secondary schools offer this as a career choice only to boys and leaving females with a negative or non-existent view of the industry.
This point emphasises the importance of a joined-up approach involving industry, government and education bodies to highlight the opportunities for students in general. Encouraging girls at primary school age into the STEM subjects is crucial, not just for construction but a vast array of industries. Within construction alone, there are a wide range of exciting careers available including architects, building surveyors, civil engineers, cost estimators, project managers, risk engineers and structural engineers.
To breakdown gender stereotypes and demonstrate the potential for a career in construction, raising the profile of female role models through media is important. School and college visits by current female construction industry employees are also a great way to inspire girls and young women about the opportunities that exist.
For those women starting out in the industry, at a junior or apprenticeship level for example, assigning them a senior mentor, whether female or male, to offer guidance and advice is beneficial.
And, applicable to anyone wanting to achieve career success, networking is fundamental. Building communities of fellow industry professionals is vital for creating new business or career opportunities as well as helping to engage new clients. Just as important however are the personal benefits to be derived from networking; learning about others' viewpoints and experiences can help individuals to look at their own job and work differently, offering valuable new perspectives that could lead to positive change.
A great example of a thriving and proactive network is 'Chicks with Bricks'; a network created to enable and promote female talent in the property and construction industry. Events take place throughout the year in London and attract both men and women. Attendees range from architects, developers, planners, lawyers, tradeswomen, artists, engineers, bankers, academics, policymakers, designers, manufacturers, PR companies, recruitment specialists, contractors and surveyors.
Retention of workers
Attracting women into the industry is a key priority but retaining them when they do sign up is just as essential, if not more so.
Creating an industry that is respectful and facilitates the work/life balance that women, in particular, need is important. Yet for both sexes, flexible working is something increasingly desired.
Addressing the issues highlighted in this blog are critical to the retention of female workers long term.
From gender stereotypes reinforced at school age, right through to leadership training within individual companies and the industry as a whole, blu-3 believes a joined up approach is key to improving gender diversity and equality in the construction industry.
The Construction sector has to demonstrate it can be agile, flexible, inclusive and open to change. Women and men in the industry must take responsibility for making that happen and at blu-3 we're proud of the steps we're taking to join that march forward.