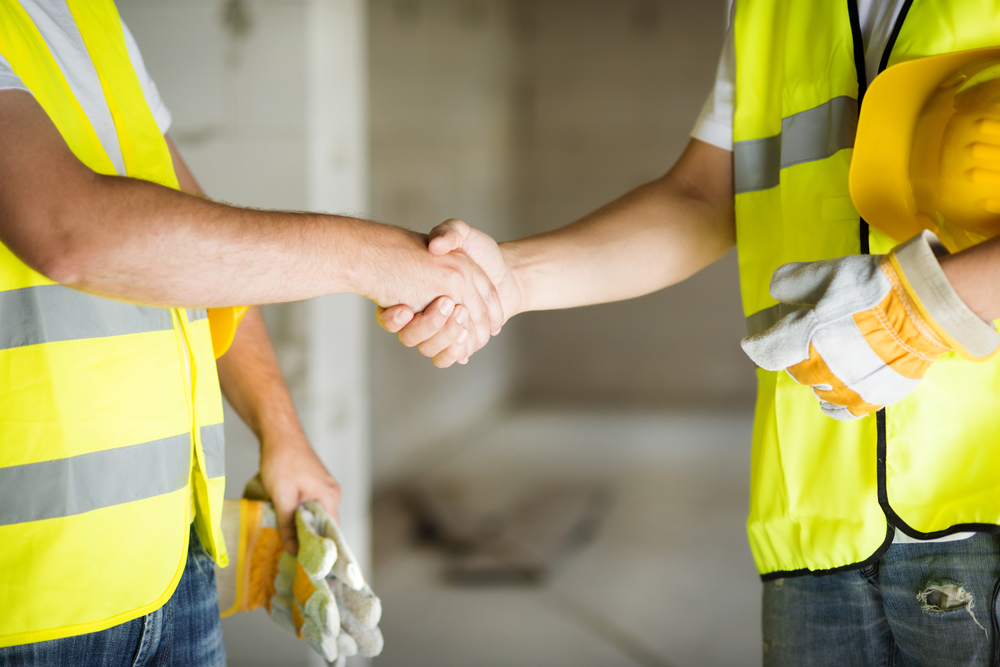 FIVE THINGS YOU (PROBABLY) DIDN'T KNOW ABOUT LIFE IN THE CONSTRUCTION INDUSTRY
We devote on average 3515 days of our life to pursuing a career, therefore it's vital that we not only enjoy what we do, but also have access to the support we require to progress and succeed. As career paths become increasingly diverse, we consider what makes a career in construction so attractive? Here are five things you probably didn't know about working in construction.
Every Day is Different
A cliché it may be but in the world of construction no two days are the same. Whether it be installing foundations for a skyscraper or considering the implications of works on traffic flow, varied duties help to shape employees into adaptable quick-thinkers. The industry undergoes constant updates concerning legislation and consumer trends and as a result is forever developing towards a better future. This continuous progression keeps roles in construction fresh and current, making long-term careers in the industry incredibly appealing. As a result, 2018 saw UK employment in construction reach a record high of 2.38 million people.
Rewards
A career in construction rewards those who commit and show a willingness to succeed. Whilst the construction industry can be viewed as one where workers move from employer to employer regularly, it's well worth knowing that many companies have implemented robust benefit & reward programmes to recognise employee loyalty and success. For an industry driven by deadlines, safety, and sheer hard work, it pays to have a highly engaged workforce with a high performing culture embedded.
In July 2018, blu-3 developed a suite of packages for all tiers of the business which recognises achievement and incentivises people to enhance their skills, learning and personal development.
Education
Construction employs people of all abilities and offers entry to management level training schemes to enhance personal development. Whether leaving school or utilising transferable skills following a career change, the industry is keen to boost skills and knowledge through learning to address productivity issues, an ageing workforce and technological changes.
The government has pledged three million more apprenticeships in construction by 2020 in a bid to upskill the industry and demonstrate it as a solid career with scope for growth and progression.
To reflect this drive, blu-3 has, in collaboration with Geason Training, launched a new level 3 apprenticeship scheme to encourage more people to pursue a career in the industry.
The apprenticeships are available in a range of departments including, operations, commercial and HR, at the company's head office in Kent and operational sites in London. Upon completion, apprentices will have access to further learning and opportunity to transfer to becoming a permanent blu-3 employee.
Collaborate to innovate
While some occupations rely solely on independence, working in construction requires teamwork and initiative. Collaborating as part of a team is essential to overcoming obstacles and in turn forms strong networks between colleagues that soon develop into long-lasting friendships. Site managers often note how strong team dynamics directly contribute to reputable standards and adherence to time constraints. Therefore, life on site is not just an incredible occupation but a fantastic way to develop personally and interact with others.
Going international
Careers in construction stretch far beyond the UK, with many roles offering the flexibility to work worldwide. No matter the weather, time of year or location, the urban landscape is continually changing. With construction being a high-demand skill, infrastructure providers such as blu-3 execute projects across multiple continents, which brings opportunities for travel firmly in reach of its workforce. Not only are such roles a fantastic way to see the world but a tremendous opportunity to build a rapport with other cultures and gain fresh experience. All of which makes the pursuit of a career in construction an extremely rewarding journey.
Have you got the skillset and commitment to thrive at a career in construction? If so, check out our latest vacancies by clicking here.
For further information on the benefits of working at blu-3 and to delve deeper into the construction industry, please visit www.blu-3.co.uk