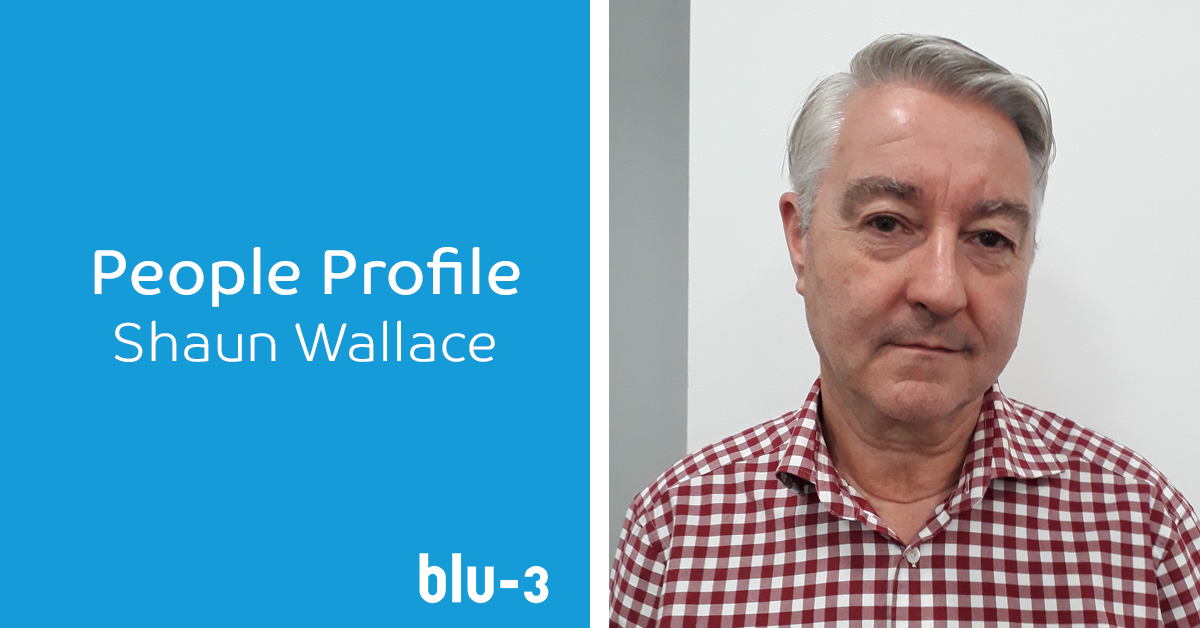 Employee Profile – Shaun Wallace
How long have you worked for blu-3?
I joined blu-3 in November 2017.
What was your career path before blu-3?
My background is in highways construction and maintenance, working in project management before moving to more commercial roles. Before joining blu-3, I was the commercial manager for a family owned civil engineering business.  Prior to that, I mainly worked in senior estimating and 'work-winning' roles for Tier 1 and Tier 2 contractors.
What did you think of the recruitment process? (From application to job offer).
I enjoyed the recruitment process; it was very informal and relaxed.
Did you settle in well when you started your role?
I settled in very easily. Everybody in the pre-construction team and the wider business was extremely friendly and helpful. The induction process was well delivered and professional, and this gave me a great knowledge base which enabled me to hit the ground running when I started my role full time.
What does a typical working day look like for you?
I don't like to think I have a typical working day. More often than not, I spend my day studying contract documents and pricing tenders, but I also spend time on site, meeting clients and getting to know our supply chain.
Why blu-3?
Before joining the company, all I knew was that blu-3 was a utilities company. At the interview, it became clear that the company is much more than this, with great ambition and significant plans for expansion and development into many other business sectors, and this was a big attraction for me.
What would you say is the best thing about working for blu-3?
There are lots of positives in working for blu-3. The working environment at Eden House is excellent, and we work on some of the most prestigious construction projects, but it is the people that make the biggest impression. There is a great energy and determination to succeed which sets blu-3 apart.
How would you like to progress with blu-3?
I joined blu-3 because I believe that the company's plans to expand into different market sectors will open up opportunities for me to improve my existing skill-set and, hopefully, develop new skills. I think that we are all responsible for our own personal and professional development and that working for a company with the ambition and vision of blu-3 will assist my continued growth.
What do you like to do in your spare time outside of work?
I like to make the most of my spare time, travelling to far-flung places when time permits. Weekends usually include some form of fitness training either in a spin class or hiking through the countryside. A few years ago, I started to learn ballroom dancing and now have a great social life dancing anywhere from village halls to the Blackpool Tower.