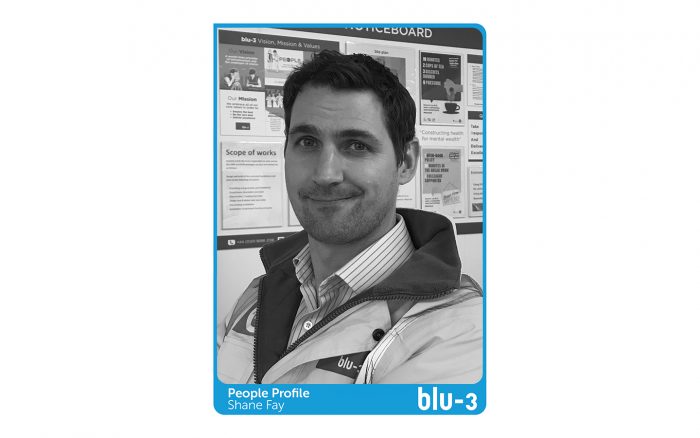 EMPLOYEE PROFILE – SHANE FAY, HSEQ DIRECTOR
Over the next few months, we will be shedding light on some of blu-3's most influential employees to gain an insight into the people who make the business tick.
This month's focus is on HSEQ Director, Shane Fay.
When did you join blu-3?
I joined blu-3 in September 2018.
What do you like about working for blu-3?
The people. It's a place that has high energy, and everyone I have met wants to carry out their job to the best of their ability. The best type of people I meet are eager to do what is right for the business and not just themselves. People understand the importance of Health, Safety, Quality and Environmental requirements and they have some great ideas on how we can do things better and improve the way we work as a business.
What did you think of the induction process?
The induction process was great and is one of the best I've seen. There was great engagement from the HR team who were genuine in their approach leading up to my joining, and they answered questions ahead of my start date.
I also had an opportunity to meet with Gerry Curran, Operations Director, a couple of weeks beforehand to get to know each other which was very beneficial. I got the sense that the company cared about me and I wasn't just another employee.
On my first day, I had an induction covering the whole business, HSEQ and IT which was extremely useful. We have a world-class induction process here at blu-3. The corporate induction, where the Board have an opportunity to meet all new starters face to face and any questions can be asked, is also very welcoming. This allows people who join the company to feel part of the family right from their first day.
What does a typical day at blu-3 look like for you?
Depending upon what the focus is that day will dictate if I'm in our headquarters at Eden House, London or one of our international projects. Typically, the day starts with time talking to my team. We discuss what's ahead of us, so we can be prepared, as well as reflecting on what we have done in the past or even just a catch up on personal matters.
There will typically be an internal or client-led meeting, where I will either present or discuss something that I have been working on with the team. Following the meeting, I liaise with the relevant people, so we are clear on any outputs and actions. Before I finish at the end of the day I try and speak to anyone face to face or on the phone, rather than email, to see that we are aligned on any pressing matters for the following day.
Why did you choose blu-3?
I turned down the offer to work for a Tier 1 contractor following a 3-stage interview process as I could see that they were very set in their ways and I did not want to become stagnant in an old bureaucratic business. I chose blu-3 as we have fantastic potential to do great things and do them differently to everyone else in the industry. I felt I could make a more significant impact when improvements are embraced and mainly because the workplace culture felt right.
How do you hope to progress at the company?
I don't want to reinvent the wheel, but I would like to see it turn a lot easier. W. Edwards Deming is someone with a great philosophy on continual improvement that I look up to and there are some elements of Sidney Decker's, Safety Differently ideologies that I would like to embrace more.
I believe it is key that we implement more ideas from those on site, who know a lot that can really drive the company forward. I would also like to work on making this process simpler, with an easy to use management system that are designed around the user, so they can embrace it and find it helpful to their daily activities.
What do you like to do in your spare time outside of work?
I try and do something new every weekend, from extreme sports to visiting a museum. I love learning and getting outside to explore with my dog and husband. Friends and family are big things in our lives, so we often have a social engagement, and we especially enjoy visiting anywhere new and dog-friendly.