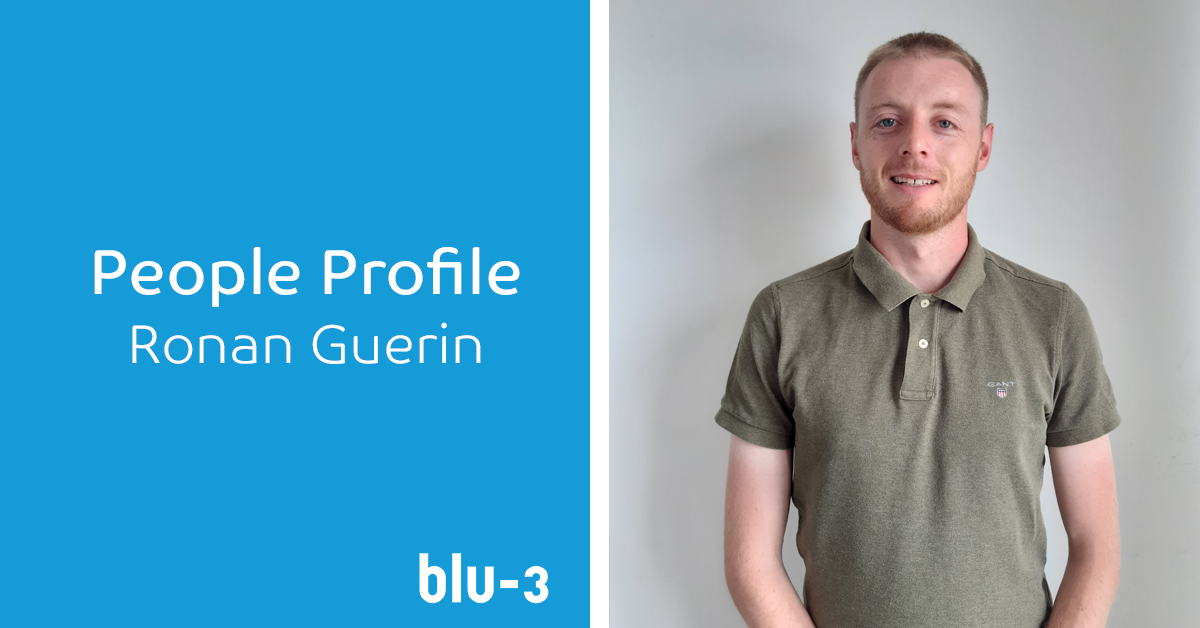 Employee Profile – Ronan Guerin
What is your job title and what does the role involve?
I work as a Project Manager for blu-3. My role generally involves planning works (labour, material and equipment), supporting the commercial team, assisting site and office staff in everyday issues, maintaining health and safety standards and delivering a finished product to a high-quality standard.
Where are you based?
I am currently based in Denmark overseeing the construction of a new datacentre.
How long have you worked for blu-3?
I joined blu-3 in 2016.
What does a typical working day look like for you?
My typical working day starts by sitting down with the supervisors on site and setting out the targets for the day, making sure all the paperwork is in place, checking progress and quality on site, liaising with the client and other contractors and planning future works.
What's the best part of your job?
I enjoy seeing the site transformation from start to finish and all the tasks or obstacles in between. It is also nice to be able to work outside (when the weather is kind of course!).
Do you get support with training and education from blu-3?
Yes, any training or support is there when needed and blu-3 has always accommodated any training requests. For example, last year I wanted to gain a better understanding of the commercial side of the business, so I was enrolled on a foundation course for quantity surveying. It helps a lot and encourages to expand your knowledge of the company and the industry.
What do you like about working for blu-3?
My colleagues and upper management are a pleasure to work with. It's also nice to see the growth of the company and the opportunities that arise from that.
Does blu-3 provide you with support for health and wellbeing? If so, what does this include?
Yes, our health and safety staff are all mental health first aiders and they are always available if you need to talk. I was also put on a wellbeing course which goes above and beyond most companies in the industry.
Do you think there are many opportunities for employees like yourself at blu-3?
Definitely! As the company grows so does the number of opportunities for everyone within the company to step up or try new roles.
What are the values and culture like at blu-3?
blu-3 has the values and culture of a successful company but what makes blu-3 stand out is the fact everyone is approachable no matter what their job title is.
Is there anything else you would like to share that may inspire others to work for blu-3?
My own experience with blu-3 has been amazing and that's the consensus from my colleagues. There are excellent opportunities for every role as the company continues to grow so the future is very exciting.