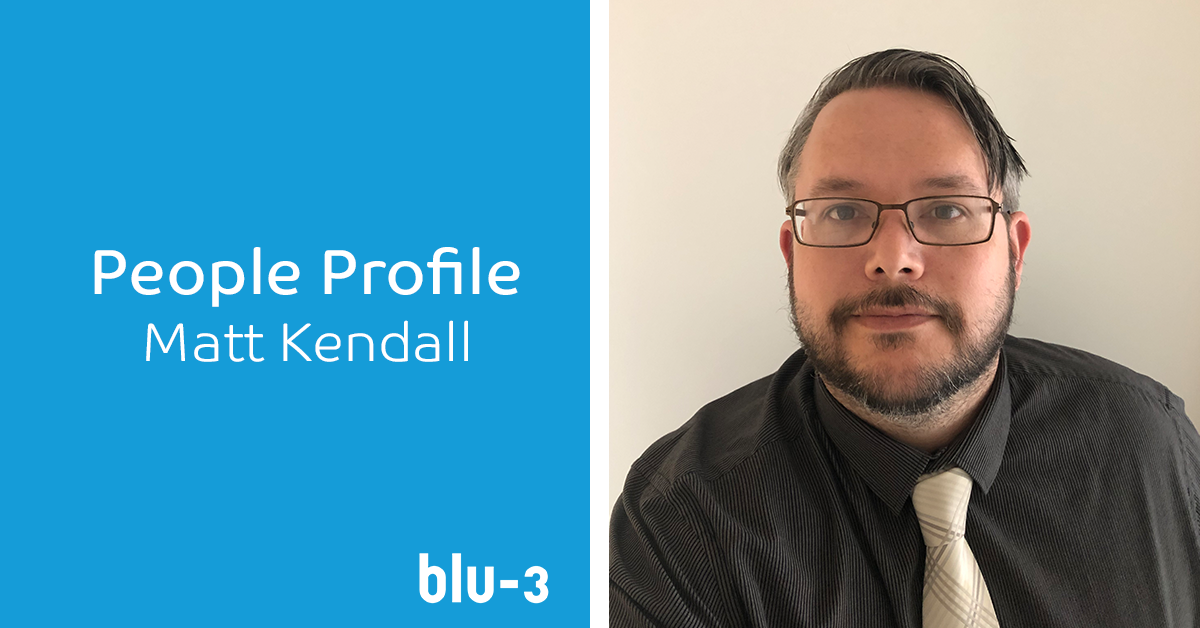 EMPLOYEE PROFILE – MATTHEW KENDALL
Over the coming months, we will be shedding light on some of blu-3's most influential employees to gain an insight into the people who make the business tick.
This month's focus is on Head of Compliance & Quality, Matthew Kendall.
When did you join blu-3?
I joined blu-3 in August 2018.
What did you do before joining blu-3? 
I was the Deputy Head/Quality Manager at the Port of Dover.
What made you want to work for blu-3? 
Initially I was simply interested in the opportunity to return to construction having worked in the sector previously. However, during the interview I saw lots of passion for blu-3 success and in combination with the continued growth of the business and its plans for the future development, I saw this as a huge incentive to get involved and was quickly convinced that blu-3 was the company for me!
What did you think of the induction process? 
I felt the induction process was comprehensive and exceptionally well thought out. It was a very relaxing experience and helped me settle into my new role quickly. It was a refreshing experience to start out with a helpful presentation and a friendly tour of the building before being introduced to my team.
If based at Head Office, what do you think of the building/facilities?
I work predominantly at head office but also visit London and all of the sites where we are currently working. I was impressed by the modern and well laid out property. I think we are fortunate to have such excellent facilities on site such as the gym.
Are there any schemes/programmes the company runs which you are a particular fan of? 
I appreciate that as a business we support charities whenever possible and also that we are among the best in the industry for mental health support which is made available to us.
What does a typical day at blu-3 look like for you? 
My days vary due to the different elements of the business which I'm responsible for. Sometimes I will be dealing with personal data access requests as I'm the Data Protection Officer (DPO) for the business, and other days I will be doing analysis on NCRs, client satisfaction as well as audits and inspections from a quality perspective.
Other duties include looking at legislation, standards, our accreditations and how to maintain and improve them from a compliance perspective to benefit the business. I also create and develop new processes and documentation to support our strategy.
I'm currently leading the development of a new, improved and simplified SharePoint solution to improve team efficiency and I'm also involved with supporting the business continuity and insurance teams. In addition, I support the HSEQ team and have recently been given the control of risk for the business, which will be an interesting area to manage.
What is the highlight of your day? 
Challenges. I love being challenged in my work and like to be able to support and guide those around me. It is also great to be part of the team that helps improve blu-3 and continuously improve every aspect of what we do.
How do you hope to progress at the company? 
Like everyone, I have career goals. I want to achieve the highest position I can. My natural progression from my role would be an Associate Director or Director of Compliance & Quality, while being able to maintain the level of standards I set for myself.
What do you like to do in your spare time outside of work? 
I have a 13-year-old daughter, whom I am very proud of. I love spending every minute I can with her, which includes helping her with her homework or school projects and going to concerts or movies with her. I also have a good group of friends who I enjoy socialising with, to relax and wind down. I enjoy getting out and about and I'm also a big fan of Arsenal (which is tough at times!).