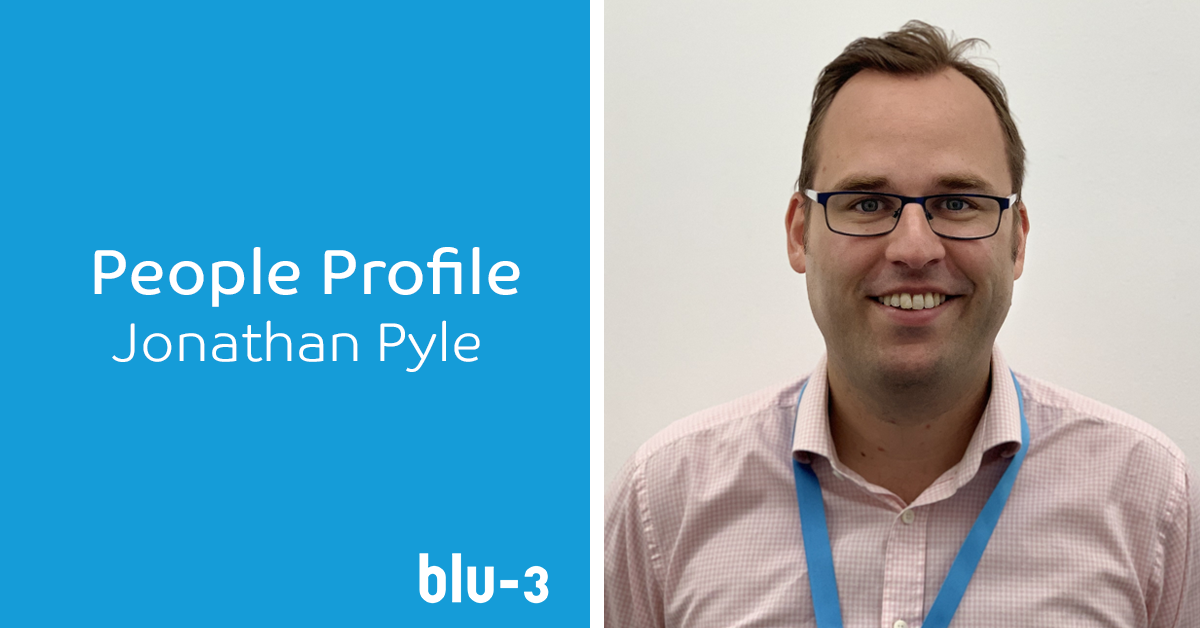 EMPLOYEE PROFILE – JONATHAN PYLE
What is your job role?
I currently work as a Senior HR Business Partner
When did you start working for blu-3?
I started working for blu-3 on the 2nd July 2018.
What was your career path before joining blu-3?
I studied A Levels in Business Studies, Economics and Law. Following this, I embarked on my degree in Business Studies with Marketing at Canterbury Christ Church University.
After completing university, I started as a temp at Capita in the Council Tax Arrears department servicing Lambeth. I worked here for six years in a variety of roles before moving to Balfour Beatty, working on various projects including Dartford Crossing and the tunnelling project for Crossrail.
From here I joined NHS Property Services Limited as a Senior HR Business Partner, providing generalist HR support to the South East. Following a few years with NHS Property Services Ltd, I eventually joined blu-3 and haven't looked back.
Most recently in January 2019 with the help of my current mentor Kay Jarvis I achieved chartered status within the field of HR.
What does a typical day look like for you?
No two days are the same in my role. Duties can vary between project work, general HR activities, working with Occupational Health, visiting our sites, engaging with our workforce and visiting exhibitions in order to promote blu-3. I also attend client facing meetings to promote our organisation and the excellent work we are doing, including our apprenticeship and graduate programmes.
Who do you look up to at the company?
I have to say I am inspired by many of my colleagues. There are those in the company who have achieved a great deal in a very short space of time in their careers. Others have challenging roles but get on with the job while delivering great outcomes. There are also those that can sometimes struggle in their personal lives but aren't afraid to reach out for help.
Was it easy for you to settle in?
Yes, my team have been great in helping me build my knowledge and understanding of blu-3 and what our goals are as a department. They have all been very welcoming and so has everyone in the wider company.
Do you associate with your colleagues outside of work?
Yes, I find this helps to build good relationships within the business and brings you closer to your colleagues.
Where do you envision your career path taking you?
I have ambitions of being a Head of HR /HR Director in the future and my current career path under the direction of Kay is pushing me in the right direction to achieve this.
What do you think of the office facilities?
The Head Office facilities are excellent and the equipment available there is a lot better than my previous experiences within construction. blu-3 also provide wellness packages within the head office, providing fruit and breakfast items for employees. We also have a gym on site with a personal trainer which is hugely beneficial.
What do you like to do in your spare time?
I try and dedicate as much time as I can to my family as I don't want to miss any milestones along the way. If possible, I also like to watch football and recently attended the League 1 playoffs to watch my team, Charlton. Other sports include Badminton and American Football, and I also like socialising with friends.