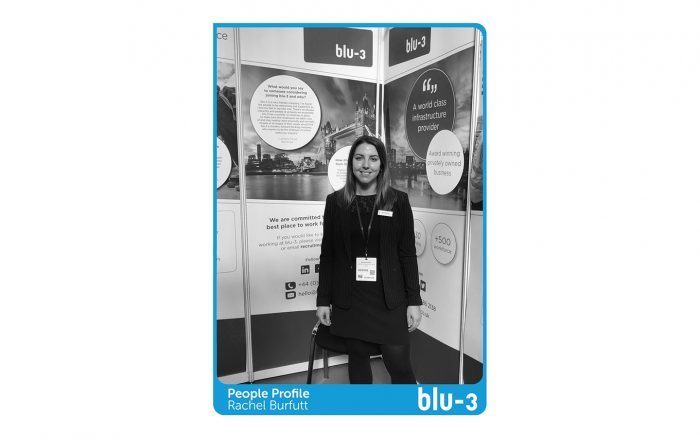 A DAY IN THE LIFE – RACHEL BURFUTT
Want to know what it's like to have a role in the construction industry? Take a look at Rachel's story and her day-to-day life at blu-3 and see if this seems like the right career path for you.
What is your job title and what does the role involve?
My title is Learning & Development Partner. My role involves managing all aspects of training within the business including the booking of all mandatory and developmental training, as well as working on training strategy and schemes that we wish to work on within the company, such as apprentice or chartership schemes.
Where are you based?
At Head Office, Eden House, in Larkfield, Kent
How long have you worked for blu-3?
18 months
What does a typical working day look like for you?
First thing when I get into the office, I usually check my emails, if there is a training course on that day, I will welcome the trainer and ensure the room is set up and that all delegates have arrived. I'll check on the status of any existing training requests and ensure the preparation for these are completed, this can involve liaising with suppliers, ensuring the correct paperwork is in place, raising purchase orders, as well as sending calendar invites and joining instructions to employees.
I also spend some time working on any existing learning and development initiatives. This may involve writing up procedures or proposals, research, meetings with external providers and liaising with, or gaining feedback from, other staff members. I also check that our Learning Management System is up to date and upload any certificates that have been received.
I typically update any monthly reports on training and check on the status on our CITB grant claims and also recheck existing training requests and make any updates and check through my emails again before I leave to ensure anything urgent has been addressed.
I'll normally spend the evenings relaxing or doing university work. I am currently working towards obtaining a Psychology degree with the Open University to broaden my skills.
What is the highlight of your day?
When someone comes to me and tells me how much they have enjoyed a training course or how much it has helped them.
What do you like about working for blu-3?
I like the fact that blu-3 are a growing company and it is exciting to be on that journey with them. I also love the fact that I work for a company that values and sees the importance in the work that I do. One of the core values of blu-3 is its people and learning and development is a massive part of this. The people are great and I work as part of an incredibly supportive team.
What do you like about working in the construction industry?
It is a growing and forward-thinking industry where no two days are the same. It is exciting when you see completed construction projects and know that you have played a part in that, however big or small.
What route did you take from secondary school to where you are today?
After completing my A-Levels, I had a couple of jobs working within retail and working in offices. Eventually, I got a job working for Berkeley Homes as a Site Secretary. I did this for four years until I was given an exciting opportunity to become the company training coordinator, which was a brand new role in the business. I did this for two years, where I developed a training management system, which consisted of various policies, procedures and a new way of streamlining training across the business. I then came across the role at blu-3 which seemed like the perfect opportunity to do a similar role but in a different, high growth company where I felt I could make more of an impact.
Where would you like your career with blu3 to progress?
I would love to see blu-3 grow into a position where we are able to offer accredited courses, not only to our employees but also externally. My goal is to understand the blu-3 standards for training to become an example of good practice within the construction sector, where we could share our ideas at industry events.
Is there anything else you would like to share that may inspire others to work for blu-3?
blu-3 is a great company that not only offers excellent opportunities for career development, but it also provides great benefits and truly cares about your general health & wellbeing.