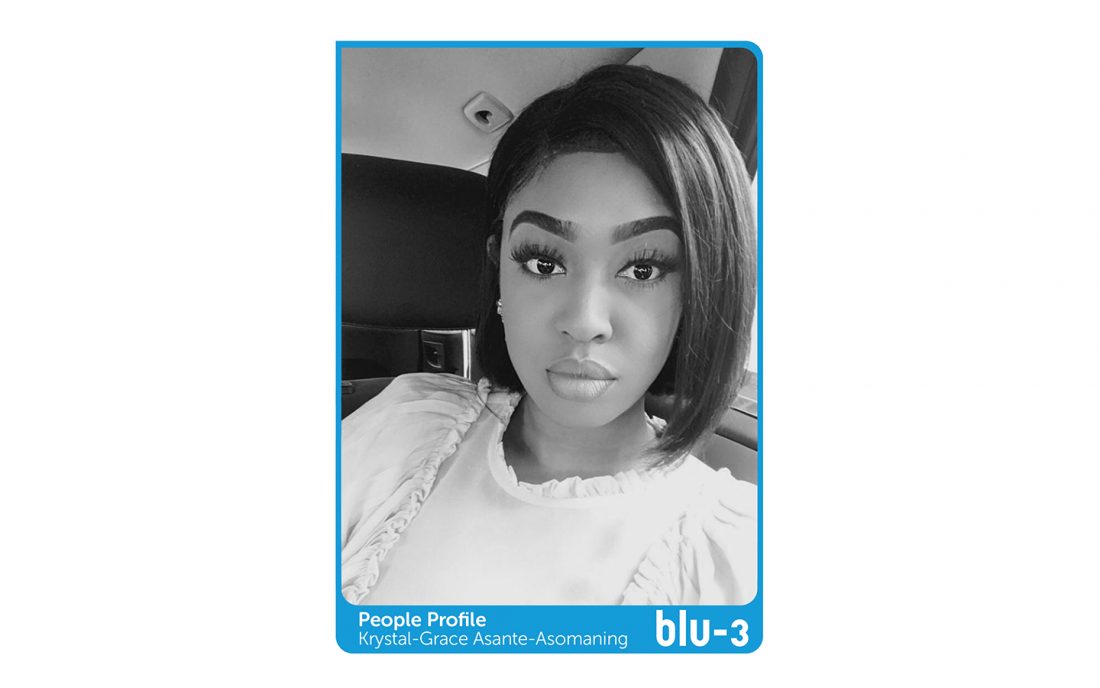 A DAY IN THE LIFE – KRYSTAL-GRACE ASANTE-ASOMANING
What is your job title and what does the role involve?
My job title is Project Engineer. My role involves assisting the senior project manager and design manager in the completion of projects. This involves completing HSEQ documents for sites, completing as-built drawings and documentation required to complete a project.
Where are you based?
I work at numerous sites around the London/Essex area. However, if I am in the office I am based at Eden House, Larkfield, Kent.
How long have you worked for blu-3?
I am new to blu-3 and I have only been working here for two weeks so far but it is going very well.
What did you think of the induction process?
The induction process was really good. The HR and IT department were lovely and did everything they could to help me settle in. The induction itself was straightforward and to the point which I liked. We were shown how blu-3 operates and given some induction forms and online assessments to complete which helped me understand the company and my role a lot better. Overall, it was very informative and concise.
What does a typical working day look like for you?
Every day can vary, and I was informed of this before I was offered the job. Some days I am out on site assisting the Senior Project Manager to help complete the project we are currently working on. Other days I am based in the office completing documentation for various other sites.
What is the highlight of your day?
I like the fact I am constantly being challenged and I am always learning new skills and information every day about the industry.
What do you like about working for blu-3?
Everyone is always willing to lend a helping hand and teach me new things. I am the type of person who asks a lot of questions and everyone has been more than happy to show me the ropes and guide me in the right direction. The projects also vary so much and are an excellent opportunity to try and learn new things which, in turn, develops my skill set.
What do you like about working in the construction industry?
It can be a fast paced and exciting environment. It gives me the opportunity to observe the construction of various structures. I can then later say I assisted in the construction of that 'building' which does give you a huge sense of pride.
What route did you take from secondary school to where you are today?
After secondary school I went on to sixth form to do 'A' levels in English, Maths and Psychology. I then went to the University of Portsmouth to study Civil Engineering, where I also completed my Masters degree in Civil Engineering and Structural Engineering.
After university, I worked in retail for a year (the unfortunate struggle of getting a graduate job after university). I then worked for JN Bentley as a Site Engineer on one of their projects in Grafham, building a service reservoir for just under two years.
Next, I worked as a Project Engineer managing borehole maintenance for Enisca Browne for their client Southeast Water. After this I went on to work again as a Project Engineer for Integrated Water Services, working on the upgrading of security on site.
All this experience has led me to blu-3 where I am now a Project Engineer for the Utilities part of the business.
Where would you like your career with blu-3 to progress?
Ultimately, I would like to progress in a direction which will allow me to become a Project Manager.
Is there anything else you would like to share that may inspire others to work for blu-3?
Although I am new to blu-3 I can say that I have learnt so much in the short time I have been here. If you are looking for a role to challenge you and drive you to push yourself and give your all, then blu-3 is the place to be. Everyone is so welcoming and there is a calm and inviting environment which makes it a pleasant place to work. Everyone is really nice and they ensure the work is done to a high level.