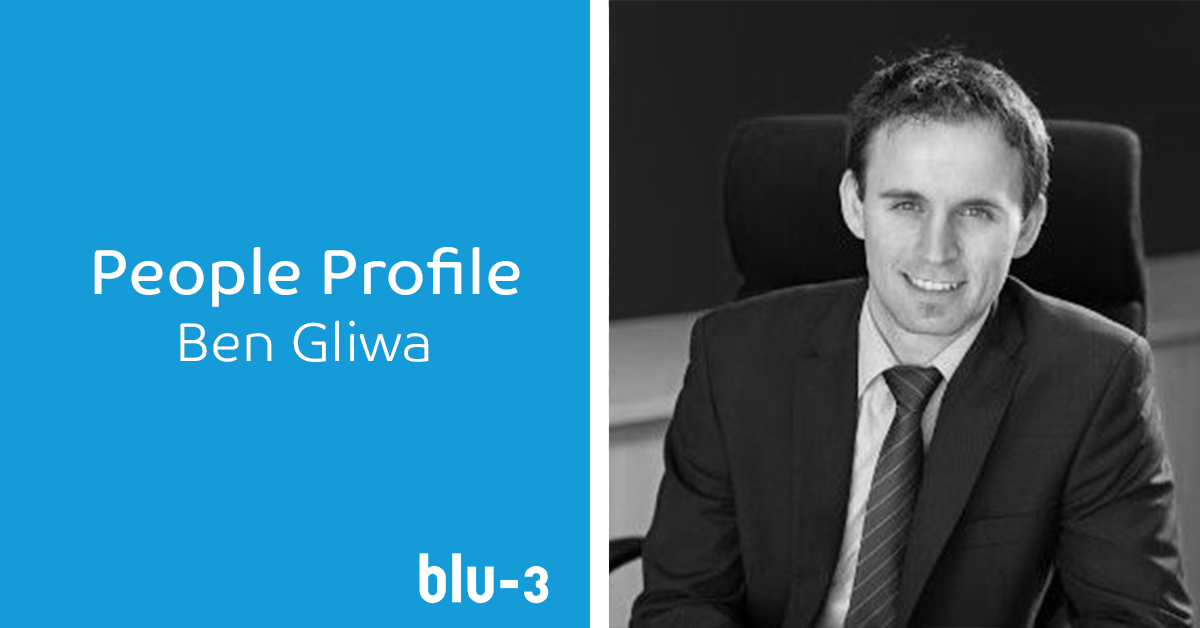 A DAY IN THE LIFE – BEN GLIWA
What is your job title?
Head of Utilities
What does your role involve?
My role focusses on the leadership and management of the blu-3 utilities team. This involves a wide range of activities ranging from client engagement, team mentoring & development to project governance, bid development and work winning. In this role, I advise and develop my team to ensure we are continuing on the blu-3 journey in line with our business plan. strategy and values.
What does a typical day look like for you?
On average, my day involves working closely with my team and advising on specific project related areas, which can vary from programmes, pricing and contracts to personal development and client discussions. The day can see me focus on a variety of areas across the business unit, but of late a substantial component of my time has been in new and emerging client discussions and projects, including meetings, site visits and team planning workshops.
What is the best part of your day?
Each day provides an ever-changing set of challenges and rewards, but the most rewarding days are those that enable me to add value and support my team members, enabling them to grow and develop along with the business unit as a whole.
What is it like working in the office/on-site?
Although I visit our project sites, I am primarily based at our head office or satellite offices in London. Having the ability to visit our sites and engage with all the personnel involved in our projects is very important to me. It enables, not only a better understanding of the works we are performing as a team, but the feedback and discussions that are had on site, which are valuable to understand how all members of the division are progressing.
What are your typical working hours? Do you have to work extra hours?
As with most management roles, my hours do vary week to week based upon the workload at hand. Our division typically is engaged on Monday – Friday, but sometimes we are required to work the occasional weekend to ensure the job is completed on time.
What made you want to work in construction?
Having completed work experience in the petrochemical industry in my younger years, I developed a keen interest in engineering and construction. This drove my desire to complete my bachelors degree in mechanical engineering, which then led me into project management in utilities.
Are there opportunities for you to progress in your role?
Yes, there are always opportunities for progression at blu-3 and growth in utilities and construction in general. Throughout my career, I have been fortunate enough to progress into numerous roles, each as challenging and rewarding as the last.
Would you recommend a career at blu-3 to others seeking a new role?
Yes. blu-3 is a unique business in which a particular focus is placed on the development and training of its staff to a level rarely seen in this field. Aside from this, our strong focus on values and the opportunities afforded to our employees, as a result of the substantial growth of the business over the past few years, makes it an exciting and rewarding workplace.