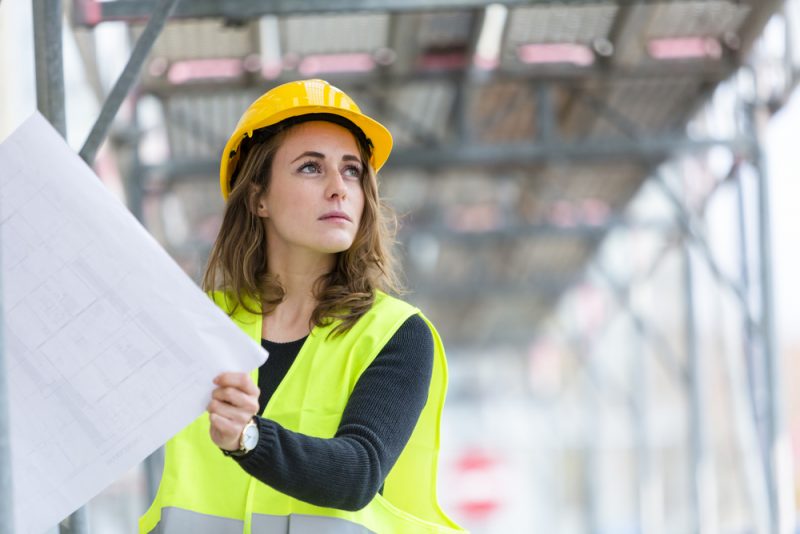 ADVICE FOR WOMEN SEEKING A CAREER IN CONSTRUCTION
Friday 8th March 2019 marks International Women's Day which aims to celebrate the cultural, social, political and economic achievement of women across the world. At blu-3 we love to empower women in construction and want to encourage more to join the industry.
Since the introduction of the #MeToo and #TimesUp movements, the disparity between men and women not just in Hollywood, but in industries across the world, has become more apparent. The movement now not only focuses on sexual misconduct but imbalances between men and women as a whole. This year's theme of #BalanceForBetter is a call-to-action to help drive the gender balance and combat these disparities.
A recent survey by housebuilder Keepmoat revealed that only 13% of women aged 16-25 would consider a career in construction. Here at blu-3, we are huge advocates of improving gender diversity in the construction industry to make it a more appealing career choice for youngsters, and in particular, women.
Now – more than ever – is the perfect time to join the construction industry with more and more women taking up senior roles. The availability of apprenticeships and traineeships is also providing young people with an excellent opportunity to gain skills and hands-on experience.
With many young women unsure of what to do as a career – why not consider construction? We have some tips for anyone embarking on a career in the industry.
Find a female role model
As a young woman, the most significant influence on the choices you make is someone of a similar age who has experienced some of the same difficulties you have faced.
As an extension of this, having a role model to relate to, who you admire and motivates you, can be life-changing. They can share their experiences which can be invaluable. If they are based in construction, they can relay how they have progressed, as well as being able to give an insight into the industry.
Currently, 21% of board members throughout the industry are female, and that figure is predicted to rise. Finding out who these women are and researching their background and history in the business can give insight into the route to a career in construction. This will provide you with someone to look up to and reach out to for help and advice.
Why not make contact and ask if the person takes on mentees, or could recommend someone? C-suit executives are typically very busy, but they also know what it's like to be starting out in the industry. You might be surprised at the response you get!
Blu-3's Finance Director Ramnik Kapur is an excellent example of a successful woman in the construction industry. She is a perfect source of inspiration for any young women aspiring to take the step into the industry.
Another great example is Sophie Gowland who works as an Assistant Quantity Surveyor for blu-3. Sophie has excellent on-site experience and knowledge that would be valuable to anyone seeking a route into construction. She recently spoke at a senior industry leaders Breakfast event to discuss the issue of women in construction.
Work experience
Gaining on-site work experience is a must. Almost two-thirds of employers prefer people with solid work experience when considering applications. This will also give you the best insight into the industry and the types of roles available to you and can help you get your foot in the door before applying for a full-time position.
Combining work experience with courses and other educational programmes can also allow you to apply your new understanding to what you are studying.
Why is this important to employers? Securing work experience allows you to fit into teams more quickly, you won't need as much training and you will have skills others won't. Some companies may pay for work experience and they can also use this as an unofficial interview which could result in you being hired by the company.
GOV.uk is a great resource for finding the right programmes. Their 'Find a traineeship' page can allow you to secure experience in the right sector and in a location that suits you. In support of this kind of initiative, blu-3 provides internships in a variety of roles, which can lead to full time positions if your performance is suitably impressive!
Build on your skill set
One key attribute that is a must for a career in construction is the right skill set. This will enable you to meet the demanding needs of the industry. It is vitally important to ensure you are fully equipped with the right skills for the job, as this will enable you to progress your career much quicker.
There are many options available to help you gain all of the right skills such as apprenticeships and educational programmes. These are widely available for young people, but it is also essential that you continue your development through your employer or a professional body throughout your career. Continued progress is key to ensuring you are prepared for any future requirements of the sector and will enable you to climb the career ladder a lot more confidently.
Traineeships paid for by the Government provide a great mix of hands-on work experience alongside maths and English support. These can range in length from a couple of weeks up to six months, and in some cases up to £1500 can be claimed as a grant. Visit GOV.uk to find out more…
Join an association
Organisations dedicated to helping and protecting women in construction are a great place to promote yourself throughout the industry and secure career advice and support.
Groups such as The National Association of Women in Construction provide an excellent platform for networking with peers. Similar associations like Chicks with Bricks, Women on The Tools and WISE (Women in Science, Technology and Engineering) can be a useful stepping stone in allowing you to gain access to future employers. At the very least, you'll meet people with similar interests and most likely develop a few friendships along the way.
It's also encouraging to know that most companies will have their own support structures in place for supporting female employees. So, once you've entered the industry it's likely that your employer will encourage you to continue your development throughout your career. blu-3 is a big advocate of women in construction and works hard to sustain its female employees throughout their careers.
And finally……be resilient
When embarking on a career in construction, the best quality to have is resilience. Yes, it is a male-dominated industry but as soon as you can illustrate that you know what you're talking about, you gain respect from the entire workforce – men and women alike.
It is worth noting that the industry is changing for the better. The most recent data from the Office for National Statistics states that 296,000 women are currently employed within the industry. And in recent years positive steps have been made to increase the number of women in construction and eradicate all instances of sexism.
At blu-3 we recognise that our people are central to the success of the business and have committed to becoming the industry employer of choice by developing a workplace culture where all people are cared about and valued, regardless of gender.
We have implemented many initiatives to support this including an enhanced suite of benefit packages, a thorough Personal Development and Review process to enable career progression and a dedicated recruitment function to ensure we recruit a high-calibre, gender-diverse talent pool.
If you are interested in working with blu-3, please visit our Careers page for more information.